Lavazza Coffee Machines Cyprus
Still waiting for your coffee at the office?

You don't have to! EspressMe got you covered!
Drink The Best Coffee at Work with Fresh Premium Coffee Beans!
Get a State of the Art Coffee Machine without any additional cost.
With a Pricing Model that is unbeatable! Pay only for the coffee consumed every month!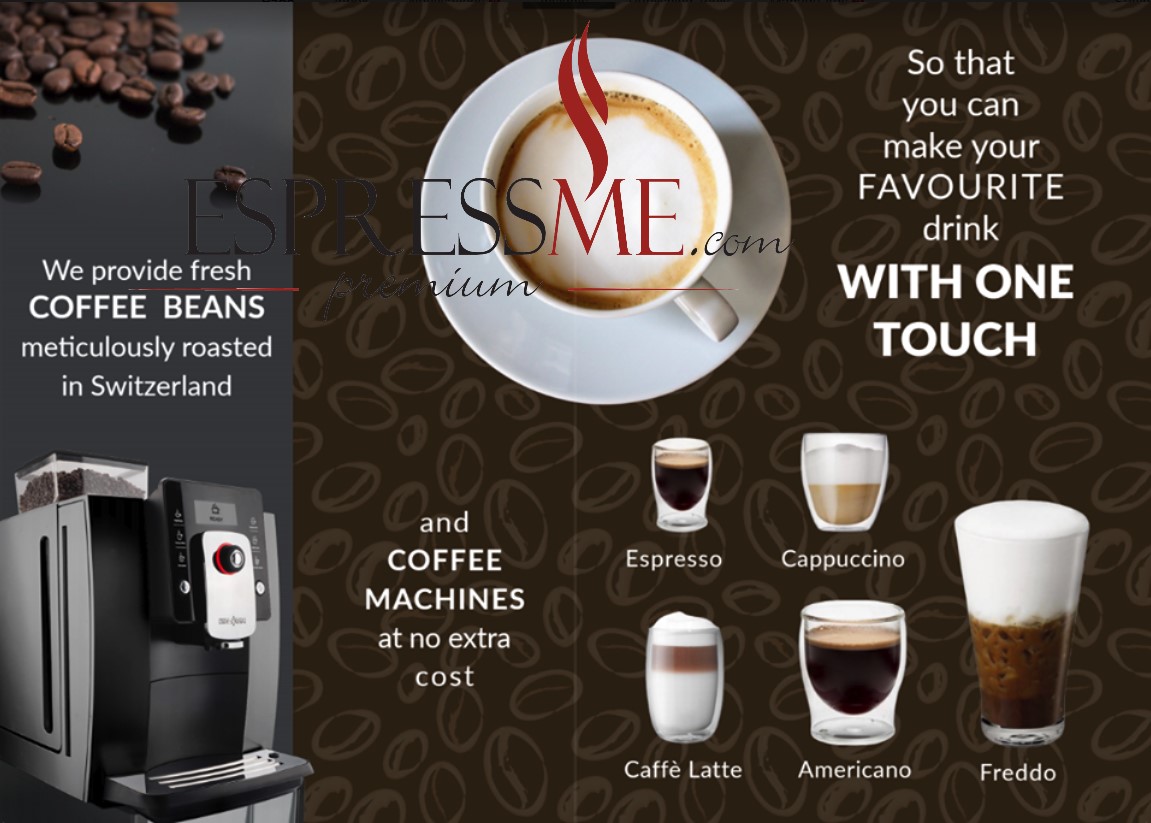 We are coffee lovers and espresso perfectionists. We strive towards delivering to our community the best coffee bean to cup. Our passion is our business and our business is coffee delivered by our coffee machines, whether be in the comfort of your home or the office.
As coffee lovers and espresso lovers alike, we strive to brew the perfect cup for our customers. For this reason, we are the premium distributor to turn to, when shopping for new machines. We offer an extensive selection of coffee and espresso makers alike, ensuring the perfect cup each time you push the brew button on your new machine. .
Whether you have been drinking coffee for many years and love unique blends and flavors, or are simply looking for a new machine to keep in the office for employees to use, we have an extensive selection of options for you to choose from on our site.

We recognized that there is no such thing as The Best Latte Americano, The Perfect Espresso or The Ultimate Cappuccino. Because when it comes to coffee, each person holds in their hearts their own image of Perfection, so we're delivered it.

Kalerm Quarza B is not just a coffee machine, it is a journey through the lands of all aromas, we offer you the way to Your Perfect Coffee.

Applying a simple and intuitive customization system to each and every ingredient and process which goes in the making of the popular beverage, we've taken it from bean to cup and created a whole universe of possibilities. The only thing left now, is to explore.


Make 6 different drinks including fancy coffee and milk with only one touch.
With stainless steel pipe inside the two electric rapid heater, it has longer service life and provides safer drinks.
With integrated water coffee spout, there is no need to move the cup to make any drinks.
Professional cream device ensures the soft, smooth, and fragrant cream and it is easy to remove and clean.
With the adjustment height of coffee spout from 80 to 140mm, it meets the smallest espresso cup and the largest latte cup.
With the intelligent fault warning and information reminding system, all the information will appear on the screen.